Poetry Masterclasses - "Was O'Neill a damned poet?" with Joana Meirim
From the cycle "Poems are heard, not explained", today at 9 p.m.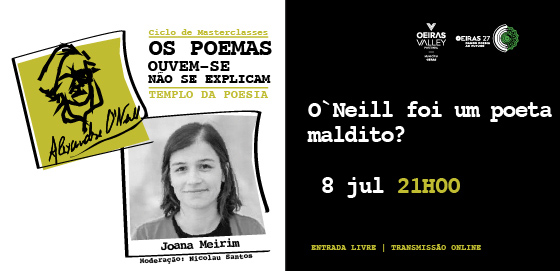 In this session Joana Meirim, coordinator of the O'Neill website project, will share with the public a little history of how this challenge of building a place made in the image and likeness of the poet who gives it its name emerged and evolved.
This site is one of the lines of work of a broader initiative, which they called Lugares de O'Neill, which was developed between 2018-2019, with the support of the Calouste Gulbenkian Foundation, part of the University's Center for Communication and Culture Studies Portuguese Catholic. This project is now, together with the author's estate, in the National Library of Portugal. The sessions take place in the Auditorium of the Temple of Poetry in person and will be broadcast online from the Facebook page of OEIRAS 27. We closed this Cycle with the presence of filmmaker João Botelho to share with us the film he made about Alexandre O' Neill and which will be released next year. The moderation of this Cycle is by Nicolau Santos.
This session is part of the Cycle of Masterclasses about Alexandre O'Neill. This session is invited by Joana Meirim and is moderated by Nicolau Santos. In the Temple of Poetry and with live streaming online.
Next and last session:
"Was O'Neill a bohemian poet?" By João Botelho
15th of July | 9:00 pm ​​​​​​​
OEIRAS 27, Inventing the Future