Poetry Masterclass with Clara Ferreira Alves
"Poems are Heard Not Explained" comes back with "Was O'neill ironic?"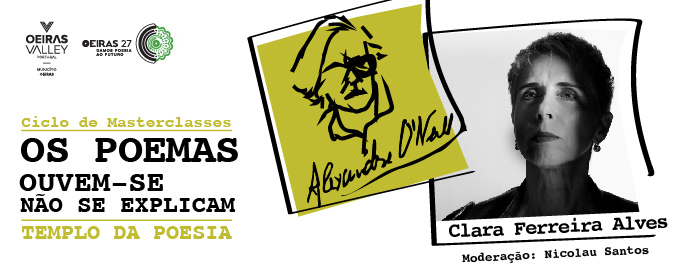 "Was O'Neill ironic?" In this week's Masterclasses cycle, we have the presence of Clara Ferreira Alves moderated by Nicolau Santos, on June 3rd, at Templo da Poesia at 9 pm, with live transmission online on the Municipality's Facebook.
In May, we will resume the 4th Cycle of Masterclasses dedicated to the poet Alexandre O' Neill, which will run until July. This Cycle, which was scheduled to start in 2020 and which did not materialize due to the pandemic situation in which we live, was rescheduled for the first half of 2021. The general motto of this Cycle remains the same: the poems are heard, not explained. There will be 9 sessions from May to July that intend to reflect on this 20th century surrealist poet, although only at the beginning of his journey, because he had many other faces. Poet, man of the word, provocateur, deconstructionist, anti-system, anti-institution, anti-canon and who said things like words are sick animals. Who wrote poems to be heard, to question and annoy.
This is already the 4th Cycle and the approach is always based on an interrogation. It is not intended to be any academic or specialist record, but to deconstruct the work by the person, by the poet. Putting you in dialogue with the audience. The sessions will be held in the Auditorium of the Temple of Poetry in person and will be broadcast online from the municipality's Facebook page.
Session:
"Was O'neill ironic?" with Clara Ferreira Alves
2nd of june | 9:00 p.m.
​​​​​​​
Next sessions:
"Will O'Neill have lived in the eyes of a cat?" with Tiago Bettencourt
17th of june | 9:30 p.m.
Location:
Templo da Poesia
Free entry | Live transmission on Municipality of Oeiras Facebook.
(Maximum 34 people, subject to ticket collection)
OEIRAS 27, Inventing the Future