MAP Café dos Poetas #6 "Of the Eternal Feminine"
With Cláudia Clemente, André Tecedeiro, Cláudia Marques Santos, Luís Bastos on the 21st of May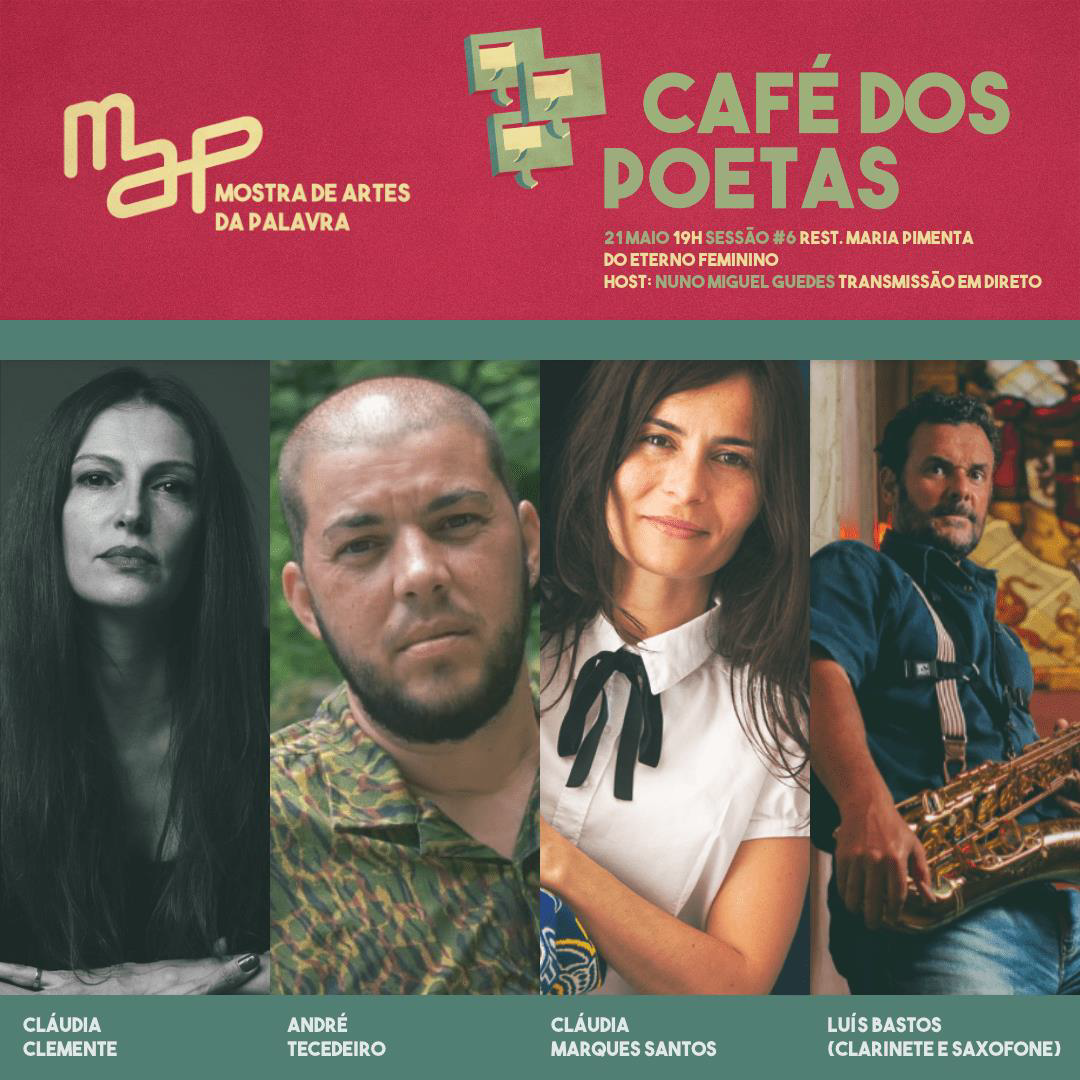 Will there be a "female writing"? Or just women who are poets? That will be a question that will hang in this cafe. But more important is to know the texture of the poetry that will be practiced. The concept of these poetic gatherings is based mainly on what we consider to be "proximity poetry". It is a form of cultural dissemination - in this case poetic performance - brought to the public in an informal, close and interactive way.
In Session # 6 of Café dos Poetas, Cláudia Clemente, André Tecedeiro, Cláudia Marques Santos, Luís Bastos (on clarinet and saxophone) with Host Nuno Miguel Guedes, will be at Maria Pimenta Restaurant to speak "Do Eterno Feminino".
MAP is a multidisciplinary and transversal festival that explores the Word and its relationship with other disciplines as the central theme and driving force of the entire event.
Poetry will be present in all forms: from music to visual arts, from conferences to workshops, from debates to conversations, from cuisine to citizenship, from school to public and media space. MAP is a way of redefining borders and territories, revisiting the real and reinventing our poetic imagery.
With initiatives starting in January 2021, the MAP takes place in the municipality of Oeiras and will culminate in a more intense period between 9 and 13 June 2021. MAP is a festival supported by the Municipality of Oeiras and is part of a set of initiatives integrated in the candidacy of Oeiras as the European capital of culture (2027), which aim to symbolically position Oeiras as "Capital of Portuguese Language and Culture ". The festival presents a great diversity of events that take place in several locations, allowing the creation of routes that cover the entire municipality of Oeiras. ​​​​​​​
Session Information:
Schedule:
21st of may | 7 p.m.
Location:
Restaurant Maria Pimenta | Online on MAP Facebook
Free entry (subject to booking)
More info here.
OEIRAS 27, Inventing the Future