MAP presents Café dos Poetas
Performative Poetry Sessions in public spaces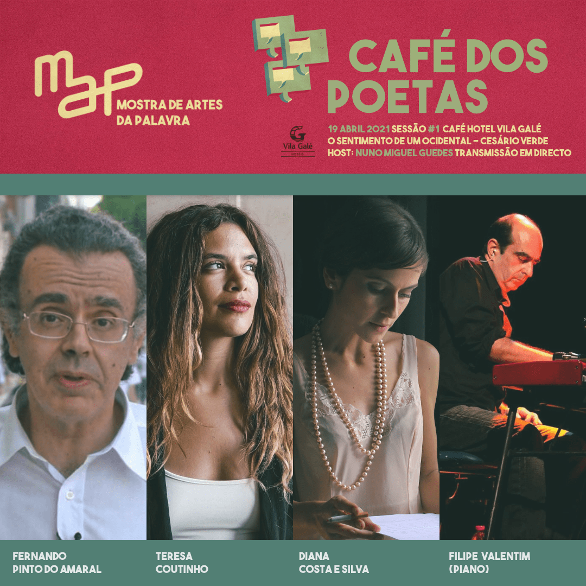 Café dos Poetas [Poet's Cafe] is a place for conversation, sharing and spreading the word. Throughout ten thematic sessions of poetry and music, each with three guests and a musician, poets, writers, books, magazines and everything else that is being brought to the table are brought to the table.
The concept of these poetic gatherings is based mainly on what we consider to be "proximity poetry". It is a form of cultural dissemination - in this case poetic performance - brought to the public in an informal, close and interactive way.
The host is Nuno Miguel Guedes. Journalist, screenwriter, lyricist, music lover, romantic, regular member of the Lisbon Poetry Orchestra collective and presenter of Poetas do Povo poetry meetings. It is he who will launch and link the conversations about Cesário Verde, Clarice Lispector, Novos Novos, Poets, Literary Magazines, People of the People, Cesariny vs. Pacheco or the Independência Edition, among other themes.
From April 19th until June 12th, there are ten batches waiting for you at O ​​CAFÉ DOS POETAS. It is possible to watch and participate, live, in the place where each session takes place - subject to prior reservation - or follow through the live transmission, by video.
More information at:
SESSIONS
19 April | 7:00 pm
Café dos Poetas Session 1: The Feeling of a Westerner - Cesário Verde
Vila Galé Collection Hotel Palácio dos Arcos - Sala Fernando Pessoa, Largo Conde das Alcáçovas, 3.
With Fernando Pinto do Amaral, Diana Costa e Silva, Teresa Coutinho and Filipe Valentim (on piano).
And suddenly, a commercial employee from Baixa Lisbon becomes one of the greatest poets of modernity, without comparison in Portugal or "abroad". The mystery of Cesário Verde's genius still raises passions and theories. But the contemporary nature of his poetry leaves no doubt.
23 April | 7:00 pm
Café dos Poetas Session 2: New New
Marquês de Pombal Palace - Largo Marquês de Pombal Winery, 21.
With Sónia Balacó, Pedro Freitas, Maria Brás Ferreira and Primeira Dama (keyboards).
Voices that are heard between verses for the first time are always welcome. In this Café we will meet and talk to some of these brand new poetic looks.
30 April | 7:00 pm
Café dos Poetas Session 3: Clarice Lispector - Coração Selvagem Palácio dos Aciprestes - Piano Room, Avenida Tomás Ribeiro, 18.
With Luanda Cozetti, Júlia Zuza, Víton Araújo and Norton Daiello (electric bass).
Clarice Lispector's poetic prose is as seductive and enigmatic as the figure of the writer. Unclassifiable, almost religious, Clarice enters the soul of all who read it directly. And she never leaves her again.
5 May | 7:00 pm
Café dos Poetas Session 4: Cesariny vs. Pacheco
Anjos Palace, Alameda Hermano Patrone - Café Asturias
With Miguel Sopas, Manuel João Vieira, Rui Portulez and Carlos Barretto (double bass).
Two great national figures who, in addition to the work, raised the bad language to one of the Fine Arts. Bright, sarcastic, moving: these are the texts - and literary duels - between Mário Cesariny and Luiz Pacheco. And more, much more!
14 May | 7:00 pm
Café dos Poetas Session 5: The People of the People
Palácio do Egipto, Rua Álvaro António dos Santos - Chá da Barra (esplanade)
With Richard Zenith, Clara Riso, Paula Cortes and João Fragoso (double bass).
Fernando Pessoa is more than a poet: he is a game of mirrors, endless, a labyrinth where you enter with pleasure and do not feel like going out. Who is who, who writes what? A coffee with a greater genius
21 May | 7:00 pm
Café dos Poetas Session 6: Of the Eternal Feminine
Pólvora Factory - Maria Pimenta Restaurant
With: Cláudia Clemente, André Tecedeiro, Cláudia Marques Santos and Luís Bastos (on clarinet and saxophone).
Will there be a "female writing"? Or just women who are poets? That will be a question that will hang in this cafe. But more important is to know the texture of the poetry that will be practiced.
7 June | 9:00 pm
Café dos Poetas Session 7: Special Session - Poetry Ensemble
Palace Marquês de Pombal - Adega Largo Marquês de Pombal, 21
With: Paula Cortes (voice), José Anjos (voice, guitar and percussions), Alex Cortez (on bass) and Filipe Valentim (on piano).
The Poetry Ensemble is a smaller formation of the Lisbon Poetry Orchestra, but that is precisely why it offers poems and compositions that practice a close and seductive outfit. To not lose.
10 June | 9:00 pm
Café dos Poetas Session 8: Suddenly stop thinking
Anjos Palace, Alameda Humano Patrone - Café Asturias
With: José Anjos, Cláudia R. Sampaio, António Poppe and Vítor Rua (on Guitar).
This Café dos Poetas borrows a verse from Ângelo Lima, a poet considered crazy and who spent a large part of his life interned in a psychiatric institution. Who are these marginal and almost cursed women and men who challenge the concept of normality? Let's hear some of your voices.
11 June | 9:00 pm
Café dos Poetas Session 9: Independent Edition
Anjos Palace, Alameda Humano Patrone - Café Asturias
With: Maria Quintans, Emanuel Cameira, João Pedro Azul and Miguel Feraso Cabral on Guitar.
On the margins of large publishing groups there are small islands that are transformed into archipelagos of independence of their own free will. Who edit, who wants to be edited there? And is it worth it? Why will they do it? Come and find out at this Café.
12 June | 9:00 pm
Café dos Poetas Session 10: Literary Magazines
Anjos Palace, Alameda Humano Patrone - Café Asturias
With: Miguel Martins, Isabel Lucas, André Gago and Giulia Cat (Auto harp).
A literary magazine in a country that doesn't read is always an adventure. But with greater tradition, but with greater urgency that defies time while reflecting it. Conversations and poets complicit in these adventures.
ABOUT THE MAP
MAP ​​​​​​​is a festival supported by the Municipality of Oeiras and is part of a set of initiatives integrated in the application of Oeiras to the European Capital of Culture 2027, which aim to symbolically position Oeiras as the Capital of Poetry and Cultures of the Portuguese Language.
MAP is a multidisciplinary and transversal festival that explores the Word and its relationship with other disciplines as the central theme and driving force of the entire event.
The MAP Festival presents a great diversity of events that take place in various locations, allowing the creation of routes that cover the entire municipality of Oeiras.
Poetry will be present in all forms: from music to visual arts, from conferences to workshops, from debates to conversations, from cuisine to citizenship, from school to public and media space.
MAP aims to help redefine borders and territories, revisit the real and reinvent our poetic imagery.
With initiatives starting in April 2021, the MAP takes place in the municipality of Oeiras and will culminate in a more intense period between 9 and 13 June 2021.
The MAP presents a concept of programming that integrates diverse cultural activities that cross the literature with different artistic disciplines, offering a vast set of initiatives where creativity, the Word and the connection with the public are the main elements.
⦁ The Secret Life of Words - Photography contest that results in a multimedia show (photography, poetry and music).
⦁ Power of the Word - Contest of eloquence, debate and argumentation.
⦁ Poetry Bus - Bus with a small "set" for itinerant "show cases" of poetry.
⦁ Tree of a Thousand Poems - Artistic installation.
⦁ Café dos Poetas - Performative poetry sessions in public spaces.
⦁ Literary Recipes - Series of videos with cooking recipes inspired by poems and works of Portuguese literary figures.
⦁ Poetry is on the Street - Music and Poetry Shows (Singers, Poetic Performance and Spoken Word).
⦁ Things That There Isn't - Videos of a pedagogical nature for children of the first cycle with practical exercises of manual works, texts and music around written, spoken or sung poetry.
⦁ Poetry Slam Workshop - Workshop to develop skills for performing Poetry Slam and culminating in a tournament.
⦁ Manifestos - A show conceived by the group Primeiros Symptoms with the participation of the population of Oeiras and which relates voice, movement, theater and poetry.
⦁ Cine Poesia - Cycle of documentaries about Portuguese-speaking poets and writers.
⦁ Conference, Debates, Workshops and Conversations